If you run, you are a runner. It doesn't matter how fast or how far. It doesn't matter if today is your first day or if you've been running for twenty years. There is no test to pass, no license to earn, no membership card to get in. You

just

run"
This quote is by John Bingham, nicknamed 'The Penguin', for coming in at the back of the pack – slow but determined. I like it because it lets me call myself a runner. Not someone who, 'kind of runs' or 'more of a jogger', but an actual runner.
I started running when I moved to a village in the Oxfordshire countryside, about the same time that I started my PhD. At first I didn't think the two
were connected
, until I realised lots of my PhD colleagues run too. Why is that?
A couple of my closet PhD buddies ran actual marathons this year and they both seem like
totally
normal people, not the protein-shake-drinking, lycra wearing types I usually picture when thinking of long-distance running
.
I ran a pretty decent sub-60 10k last year, yet always made an excuse that the PhD left little time to train for anything more
.
My multi-marathon running colleagues were showing me up and I started to notice that in fact, it is the busiest and most ambitious people doing all the running
. And what are doctoral students if not busy and ambitious? This got me thinking about the link between doing a PhD and being a runner.
Is there something about the doctoral process that inspires us to take to the streets and run like no one's watching
?
I also found a great article in the
Guardian
about how training for a marathon complements the PhD process, helping us find the strength and discipline required to get it finished.
And a recent post on
Thesis Whisperer
goes further to say that running can become part of the act of studying when it represents an entirely new approach to life.
There is even a blog called
The PHD Runner
, where qualified Hydrologist
Dr Emma
, blogs about her continued running adventures, saying, 'Without running I wouldn't have completed my PhD'.
By why running per se? Of all the physical activity we could be doing, why choose one that, quite frankly, never gets any easier? Or perhaps that's just me. To try and answer this question I turned to Twitter and the ever faithful and helpful #phdchat community, and it turns out there were some common reasons why PhD runners er, run:
1. To de-stress – the endorphins that come after a run can be a great stress-release.
Emma said running helps her 'de-stress, put things in to perspective and manage time better', and Wes said he would 'go stir crazy' if he didn't get outside to exercise
. Which will also help…
2. Improve focus – others said that they could focus better on their work after a run.
Lucy said, 'I love the feeling afterwards which helps me sit down and focus', whilst Emily thinks that this may also be because having aching muscles make her sit down and write
!
3.
Achieve short-term goals – on days when it feels like the PhD is never going to end, achieving a personal best or running your furthest distance, can feel so good
.
Alison runs to feel like she is achieving something when the PhD gets tough, saying that she feels more control over reaching her running goals
. A good tactic when many of our PhD goals seem so far, far away.
4.
To be with people – running is often considered a solitary past-time (think Iron Maiden with, 'The loneliness of the long distance runner'
.
And Forrest Gump), but if you join a club or find a few friends to drag along it can be a way to combat the inevitable PhD isolation
.
Alison uses running as way to meet non-scientists, and Lucy says that after being stuck inside alone all day, she
really
likes to run with someone else
. She says this also has the added advantage of taking her mind off actually running too!
The benefits of exercise on our mental health and wellbeing are
widely
documented and it is now prescribed by the NHS in the UK as 'miracle cure'
.
Ellie Mackin is a Teaching Fellow at the University of Leicester who blogs about her teaching and her running, and used running to help her complete her PhD as a new Mum with bipolar:
"I ran an ultramarathon in the last year of my PhD! In fact, I started running during my PhD, after I had my daughter, as a way to have some time away, to myself.

I

really

struggled to stay motivated to run after my PhD ended, and have only

really

recently started running again

.

Superficially

it makes me feel good. It also gives me time to think through issues (or not think, if I need that time too!). And, it helps me manage my bipolar. Plus, I

just

love it. I love the feeling of

being tired

after a great run!"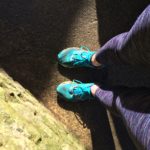 If Ellie could find the time, energy and motivation, so can I! Not sure about the ultramarathon though, which I discovered can mean any distance longer than a standard marathon…heck
!
So, running can help manage the stress of the PhD; improve focus; help us achieve short-term goals; become time to see others or be alone; and even help manage mental health issues, which may affect as many as 1 in 3 doctoral students
.
Running can become part of your study and part of your identity if you want it to.
There are now apps for new runners, clubs for runners at all levels (
possibly
at your own institutions) and some awesome running playlists to try out
. So, if you fancy being a PhD student and a runner, 'It doesn't matter how fast or how far…you
just
run'
Would you consider yourself a PhD runner? Leave a comment let us know why.